Archives by date
You are browsing the site archives by date.
March 14, 2018
Speaker: Dr. Michael J. Rensing, Director of Low Carbon Fuels Electricity and Alternative Energy Division; Biritish Columbia Ministry of Energy, Mines and Petroleum Resources Date/Time: Monday, March 19, 2018 at 12:00pm Location: Chemical & Biological Engineering Room 202 Hosts: UBC Clean Energy Research Centre Title: The B.C. Low Carbon Fuel Standard Please see the image […]
March 10, 2018
On Monday, March 5, the Department of Mechanical Engineering and Sailbot student design team held a private event for team members (current and alumni), industry supporters and mentors, and faculty members to celebrate the return of Ada, the autonomous sailboat. After missing for months at sea, Ada was found by a research vessel off the […]
March 5, 2018
Congratulations to MECH Professor Gary Schajer on his latest publication: Hole-Drilling Method For Measuring Residual Stresses. This book is intended as a practical guide for students and practicing engineers and researchers, and details the history and practice of the adaptable method of drilling holes to measure residual stresses. Electronic copies of the book can be […]
March 2, 2018
Speaker: Professor Lisa Bullard, Chemical and Biomolecular Engineering, North Carolina State University Date/Time: March 9th, 1:00 – 1:50 pm Location: Chemical and Biological Engineering, Room 102 Title: Open the Front Door, Close the Back Door: The Impact of Culture on Recruiting and Retention Please see below for more info.
February 20, 2018
UBC's Public Scholars Initiative will soon start accepting applications for its fourth year. A groundbreaking, award-winning scholarship program, PSI currently has 115 scholars from almost all faculties across UBC. Public Scholars enjoy (1) continuous academic support; (2) up to $20,000 financial support over 2 years and; (3) numerous professional development and networking opportunities.  If your work involves innovative forms of scholarship; engaging […]
February 20, 2018
In recognition of the valuable role that Teaching Assistants play in our programs, UBC annually honours 16 GTAs with the Killam Graduate Teaching Assistant Award.  Successful candidates will have met criteria that demonstrate a high level of respect for the candidate from undergraduate students and academic or course supervisors. Nominations are being accepted for those TAs that […]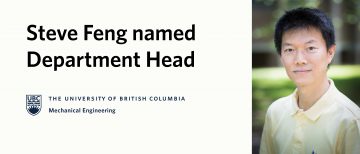 February 18, 2018
Steve Feng, PEng, has been named the new head of the UBC Department of Mechanical Engineering, effective May 1, 2018. Professor Feng joined the department as an associate professor in September 2007 and was promoted to full professor in July 2010. From 2009 to 2015, he was chair of the Mechatronics and Manufacturing Research Group, and between 2015 and 2017 […]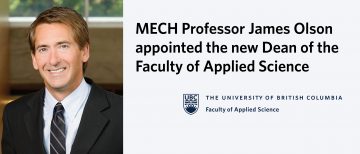 February 16, 2018
The Department of Mechanical Engineering wishes to congratulate James Olson on his appointment as the new Dean of the Faculty of Applied Science. Read the full announcement below: *** From Deborah Buszard, Deputy Vice-Chancellor and Principal of the UBC Okanagan campus, and Andrew Szeri, Provost and Vice-President Academic at the UBC Vancouver campus: It is […]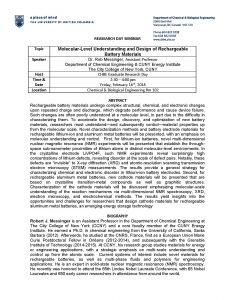 February 15, 2018
Speaker: Dr. Rob Messinger, Assistant Professor in Department of Chemical Engineering & CUNY Energy Institute at The City College of New York (CUNY) Date/Time: Friday, February 16, 2018 from 2:30pm to 4:00pm Location: Chemical & Biological Engineering Room 102 Hosts: UBC Department of Chemical & Biological Engineering Title: Molecular-Level Understanding and Design of Rechargeable Battery Materials […]
February 14, 2018
The China Scholarship Council (CSC) is a Chinese government agency that provides scholarships to students applying to UBC-V or UBC-O to pursue graduate and postdoctoral studies. These scholarships support students across a wide range of disciplines. For students seeking a doctoral degree at UBC, the China Scholarship Council (CSC) Doctoral Scholarship provides four years of […]