Archives by date
You are browsing the site archives by date.
January 29, 2018
CS Distinguished Lecture Series Speaker: Christine Alvarado, Associate Teaching Professor and Vice Chair for Undergraduate Affairs, UC San Diego Homepage: http://jacobsschool.ucsd.edu/faculty/faculty_bios/index.sfe?fmp_recid=337 Date/Time: Thursday, February 8, 2018 at 3:30pm Location: Hugh Dempster Pavilion – Room 110, 6245 Agronomy Rd. Hosts: Steve Wolfman and Rachel Pottinger, UBC Computer Science Title: Strategies for Bringing CS to All in […]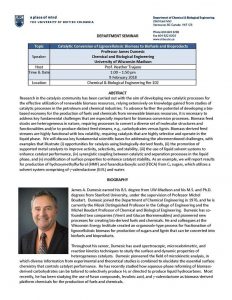 January 29, 2018
Speaker: Professor James Dumesic, Chemical and Biological Engineering, University of Wisconsin-Madison Date/Time: February 9th, 2018 from 1:00 – 1:50pm Location: Chemical and Biological Engineering Room 102 Title: Catalytic Conversion of Lignocellulosic Biomass to Biofuels and Bioproducts Please see images below for more info.