Archives by date
You are browsing the site archives by date.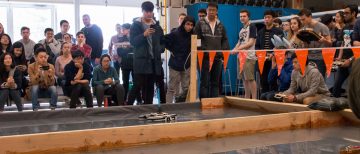 April 19, 2018
The spring MECH 2 Competition took place on Wednesday, April 18, with 20 teams of second-year mechanical engineering students competing in a SpaceX design challenge. Teams designed remote-controlled landing pads that could be used to transport a rocket booster back to shore. The competition took place in a 60-foot pool, with teams competing head to […]
April 17, 2018
Walter Merida, MECH professor, Director of the Clean Energy Research Centre (CERC) and Interim Associate Dean of Research and Industrial Partnerships was interviewed by the Globe and Mail about the future of hydrogen fuel-cell cars. Read the full article here.
April 10, 2018
Join us for the final MECH 2 Competition of the 2017/2018 school year! In teams of 6-7, second year MECH students are creating remote-controlled ships to perform certain functions of the autonomous landing platforms used by SpaceX. Their vessels will have to move quickly, maneuver around obstacles, keep position (to receive rocket booster), and maintain […]
April 6, 2018
UBC graduate programs are invited to submit nominations for the CGS/ProQuest Distinguished Dissertation Award in the fields of (i) Mathematics, Physical Sciences and Engineering and (ii) Social Sciences. Please note that this award is very competitive – PhD dissertations from universities across North America are forwarded to this competition. MECH will only forward nominations that […]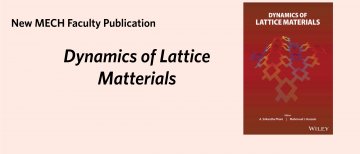 April 5, 2018
The MECH Department wishes to congratulate Associate Professor Dr. Srikantha Phani on the publication of a research monograph he co-edited. Dynamics of Lattice Materials covers lattice materials and their dynamic responses, and serves a reference for practitioners and researchers with a background in the mechanics of materials, vibrations, and material physics. From the book's publisher: […]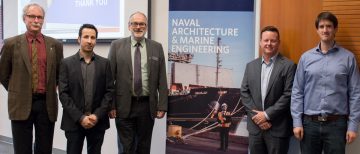 April 2, 2018
On March 23, 2018 UBC's Naval Architecture and Marine Engineering (NAME) program hosted Brian Carter, President and Chief Executive Officer of Seaspan Shipyards. Mr. Carter spent the morning with the NAME program directors, touring facilities, and meeting with members of the Sailbot and SUBC student design teams. Both teams shared updates on their projects, including […]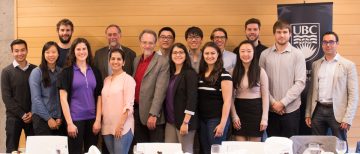 April 2, 2018
The Mechanical Engineering department recognized its outstanding student leaders at the annual Leadership Awards Lunch on March 29, 2018. Dr. Sheldon Green (Department Head) and Dr. Boris Stoeber (Associate Head, Teaching) presented the awards to the students. "The Department admires and appreciates the dedication you bring to serving your student team or group and indeed […]