Archives by date
You are browsing the site archives by date.
February 14, 2018
The China Scholarship Council (CSC) is a Chinese government agency that provides scholarships to students applying to UBC-V or UBC-O to pursue graduate and postdoctoral studies. These scholarships support students across a wide range of disciplines. For students seeking a doctoral degree at UBC, the China Scholarship Council (CSC) Doctoral Scholarship provides four years of […]
February 14, 2018
The Graduate Global Leadership Fellowships enable promising leaders from developing countries to pursue doctoral studies at UBC. The fellowships are to support international students showing outstanding leadership in humanitarian and development work in their home country. Two fellowships will be offered; each fellowship provides an $18,200 stipend plus tuition each year for four years. Applicants […]
February 14, 2018
Please join us for complimentary MATLAB seminars. Faculty, staff, researchers and students are all welcome to attend. MATLAB Technical Sessions at University of British Columbia Wednesday, February 28, 2018 Session 1: 10:00 – 11:30 AM Session 2: 12:00 – 1:30 PM Register Our event features a two-part technical session presented by a MathWorks […]
February 14, 2018
2018 Canadian Student Health Research Forum (CSHRF) Entering its 31st year, the 2018 Canadian Student Health Research Forum will take place on June 11 to 15 in Winnipeg. The aim of the CSHRF is to provide a venue for the networking, research exposure and recognition of Canada's most promising research trainees in the health sciences. […]
February 14, 2018
The SERB-UBC PhD Scholarship is open to students from India applying to UBC-V or UBC-O to study in the fields of Science, Technology, Engineering or Mathematics (STEM), visit https://www.grad.ubc.ca/awards/serb-ubc-scholarship for details. Each academic year, up to five new PhD students per year will receive four years of stipend funding ($24,000 USD per year) from SERB. […]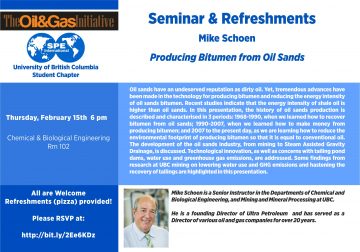 February 14, 2018
Speaker: Professor Mike Schoen, Senior Instructor in the Departments of Chemical and Biological Engineering, and Mining and Mineral Processing at UBC Date/Time: Thursday, February 15th at 6pm Location: Chemical & Biological Engineering Room 102 Title: Producing Bitumen from Oil Sands Please RSVP at: http://bit.ly/2Ee6KDz Please see images below for more info.