Archives by date
You are browsing the site archives by date.
January 31, 2018
The Department of Mechanical Engineering wishes to promote undergraduate teaching excellence by annually awarding the Mechanical Engineering Teaching Fellowship to Senior PhD students who have demonstrated dedication to, and talent for, teaching. The Fellowship will provide a stipend of $10,000 and mentorship support to teach an undergraduate course within the department the following academic year. […]
January 29, 2018
CS Distinguished Lecture Series Speaker: Christine Alvarado, Associate Teaching Professor and Vice Chair for Undergraduate Affairs, UC San Diego Homepage: http://jacobsschool.ucsd.edu/faculty/faculty_bios/index.sfe?fmp_recid=337 Date/Time: Thursday, February 8, 2018 at 3:30pm Location: Hugh Dempster Pavilion – Room 110, 6245 Agronomy Rd. Hosts: Steve Wolfman and Rachel Pottinger, UBC Computer Science Title: Strategies for Bringing CS to All in […]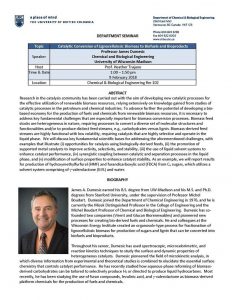 January 29, 2018
Speaker: Professor James Dumesic, Chemical and Biological Engineering, University of Wisconsin-Madison Date/Time: February 9th, 2018 from 1:00 – 1:50pm Location: Chemical and Biological Engineering Room 102 Title: Catalytic Conversion of Lignocellulosic Biomass to Biofuels and Bioproducts Please see images below for more info.
January 22, 2018
Speaker:  Dr. Ian Frigaard, Professor, UBC Department of Mechanical Engineering and UBC Department of Mathematics Date/Time:  Tuesday, January 23, 2018 at 6pm Location: Chemical and Biological Engineering Room 102 Title:  Why do Wells Leak and Who Cares? Abstract: Oil and gas wells have used cement for zonal isolation and mechanical support for at least 80 […]
January 19, 2018
Governor General's Gold Medal One gold medal is awarded to the student who has achieved the most outstanding academic record as a doctoral student. A second gold medal is awarded to the graduate student who has achieved most outstanding academic record as a Master's student completing a thesis. Students must have submitted the final copy […]
January 19, 2018
CAGS / ProQuest-UMI Distinguished Dissertation Awards The CAGS / ProQuest-UMI Distinguished Dissertation Awards recognize Canadian doctoral dissertations that make unusually significant and original contributions to their academic field. Awards are offered through this spring's competition for dissertations completed and accepted by the Faculty of Graduate and Postdoctoral Studies between 1 January 2017 and 31 December […]
January 18, 2018
Speaker:  Yuanyuan Zhou, Professor, University of California San Diego Homepage:  https://cseweb.ucsd.edu/~yyzhou/ Date/Time:  Thursday, January 18, 2018 at 3:30pm Location:  Hugh Dempster Lecture Pavilion – Room 110, 6245 Agronomy Rd. Host:  Ivan Bestchastnikh, UBC Computer Science Title:  To Err is Human  Abstract: Configuration errors (i.e., misconfigurations) are among the dominant causes of system failures. But unfortunately, developers typically […]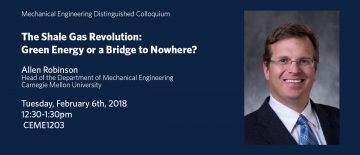 January 17, 2018
A Mechanical Engineering Distinguish Colloquium is taking place on Tuesday, February 6th, 12:30-1:30pm in CEME1203. The shale gas revolution: green energy or a bridge to nowhere? by Allen L. Robinson, Carnegie Mellon University Abstract: In the United States and around the globe, the rapid expansion of oil and natural gas production from shale and other […]
January 12, 2018
Canada Graduate Scholarships – Michael Smith Foreign Study Supplement 3rd Intake The Canada Graduate Scholarships – Michael Smith Foreign Study Supplement (CGS-MSFSS) Program supports high-calibre graduate students in building global linkages and international networks through the pursuit of exceptional research experiences at research institutions abroad. By accessing international scientific research and training, CGS-MSFSS recipients contribute […]