Archives by date
You are browsing the site archives by date.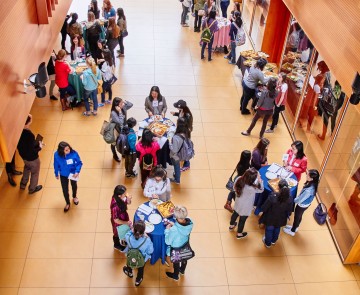 March 16, 2016
Are you a first-year Engineering student interested in joining Mechanical Engineering? Join us for a special networking event where you'll get to meet our students, alumni, and faculty members! Small groups of no more than 4 students will each be matched with one current student, one alumnus and one professor so that everyone gets a […]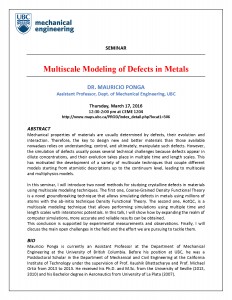 March 15, 2016
The Faculty of Applied Science and the Department of Mechanical Engineering at UBC regretfully inform that Dr. Philip Hill, Professor Emeritus, passed away February 17, 2016. Dr. Hill was born in Vancouver in 1932. He moved to Kingston, Ontario to attend Queen's University as an undergraduate. He completed his Doctor of Science at MIT and […]
March 4, 2016
Mechanical Engineering professor Dr. Farrokh Sassani has been inducted as a Canadian Society for Mechanical Engineering (CSME) Fellow. The title of Fellow is awarded to members who have attained excellence in mechanical engineering and who have contributed actively to the progress of their profession and of society. Congratulations Dr. Sassani!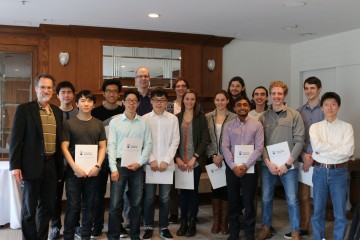 March 3, 2016
On March 1st, 2016, the following students were awarded certificates of achievement for outstanding work in the Mechanical Engineering undergraduate program: Atif Shoukat Ali Benjamin David Evers-Staples Erin Elizabeth Geiger Simon Honigmann Nathaneil David Kingston Zhaoshuo Li Jiaqi Lu Zhao Wei Lu David Kar Kit Luo Brianna Reesor Snell Adrian Maplethorp Spira Gavin Owen Vale […]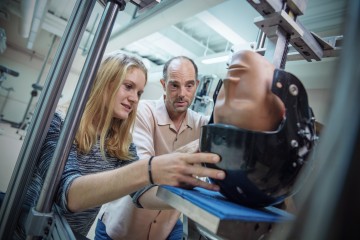 March 1, 2016
UBC Mechanical Engineering professor Dr. Peter Cripton was featured on Global's News Hour last night, and on Global's Morning News this morning. Dr. Cripton, a specialist in injury biomechanics, was asked to test the safety of a discount carbon fibre helmet that was being advertised online without any safety certification or branding. News Hour shows Dr. […]