Archives by date
You are browsing the site archives by date.
March 29, 2018
The Supermileage student design team was featured on Global News on March 24, 2018. The segments includes demonstrations of the student team's two vehicles – their prototype and urban class – and interviews with two team members. The Mechanical Engineering department is proud to support Supermileage, and several of the UBC's other student design teams, […]
March 28, 2018
Rio Tinto Graduate Scholarships As part of its ongoing commitment to innovation and research, Rio Tinto offers an $18,000 graduate scholarship for a UBC graduate student in a field of pure or applied science related to Rio Tinto's activities. (Preferred areas of activity are as follows: Hydrometallurgy; Environment; Electrolysis; Analytical technologies; Aluminium metallurgy; and Modeling […]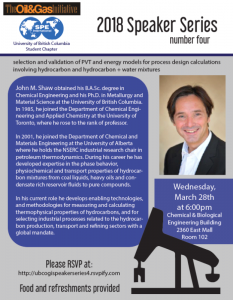 March 28, 2018
Speaker: Dr. John M. Shaw Date/Time: Wednesday, March 28th at 6:00pm Location: Chemical & Biological Engineering Room 102 Hosts: The Oil and Gas Initiative Title: Selection and Validation of PVT and Energy Models for Process Design Calculations Involving Hydrocarbons and Hydrocarbon + Water Mixtures Please see image below for more info: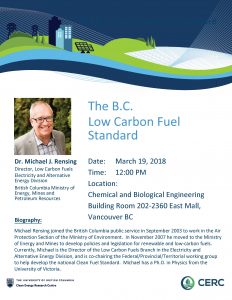 March 14, 2018
Speaker: Dr. Michael J. Rensing, Director of Low Carbon Fuels Electricity and Alternative Energy Division; Biritish Columbia Ministry of Energy, Mines and Petroleum Resources Date/Time: Monday, March 19, 2018 at 12:00pm Location: Chemical & Biological Engineering Room 202 Hosts: UBC Clean Energy Research Centre Title: The B.C. Low Carbon Fuel Standard Please see the image […]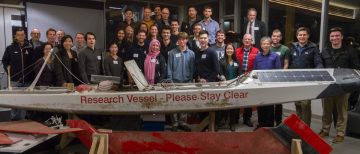 March 10, 2018
On Monday, March 5, the Department of Mechanical Engineering and Sailbot student design team held a private event for team members (current and alumni), industry supporters and mentors, and faculty members to celebrate the return of Ada, the autonomous sailboat. After missing for months at sea, Ada was found by a research vessel off the […]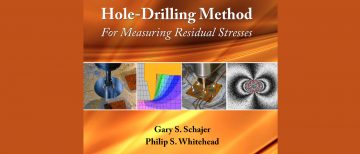 March 5, 2018
Congratulations to MECH Professor Gary Schajer on his latest publication: Hole-Drilling Method For Measuring Residual Stresses. This book is intended as a practical guide for students and practicing engineers and researchers, and details the history and practice of the adaptable method of drilling holes to measure residual stresses. Electronic copies of the book can be […]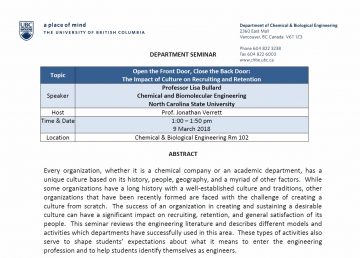 March 2, 2018
Speaker: Professor Lisa Bullard, Chemical and Biomolecular Engineering, North Carolina State University Date/Time: March 9th, 1:00 – 1:50 pm Location: Chemical and Biological Engineering, Room 102 Title: Open the Front Door, Close the Back Door: The Impact of Culture on Recruiting and Retention Please see below for more info.