News
Read the latest announcements, media mentions and news for the Department of Mechanical Engineering.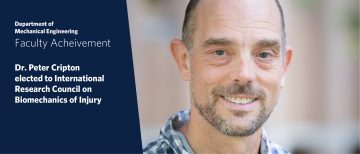 January 14, 2020
Mechanical Engineering professor Dr. Peter Cripton has been elected to the IRCOBI Council, the governing body of the International Research Council on Biomechanics of Injury. Comprised of researchers from all over the world, the IRCOBI fosters research on impact biomechanics and injury mechanisms, hosting two major conferences a year, and improving the global body of […]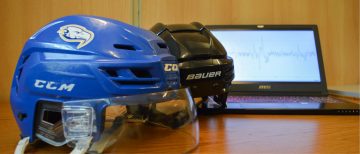 December 5, 2019
Here we explore current research by Mechanical Engineering Assistant Professor Lyndia Wu, "Investigating Brain Trauma Accumulation from Subconcussive Head Impacts and Differences between Male and Female Ice Hockey Players"  Two projects by UBC Mechanical Engineering faculty members were among the first to receive funding through the Government of Canada's New Frontiers in Research Fund (NFLF), […]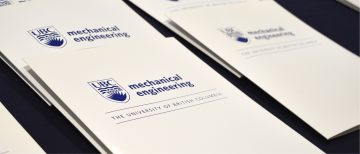 December 4, 2019
Congratulations to all of our recent Mechanical Engineering and Naval Architecture and Marine Engineering graduates who crossed the stage on November 28th, 2019! In addition to everyone who received their degrees on Thursday, the department extends additional congratulations to all of our award winners who have shown exceptional academic and design achievements in the course […]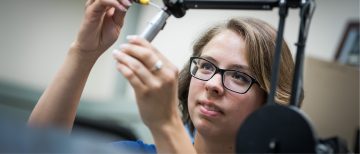 November 29, 2019
This summer, the Department of Mechanical Engineering is spearheading an exciting new program designed to enable undergraduates to explore what research is all about. Combining Research Experience and Technical Electives for Undergraduates (CREATE-U) is a comprehensive package featuring six credits of coursework and a paid research project in a Mechanical Engineering lab (which can even […]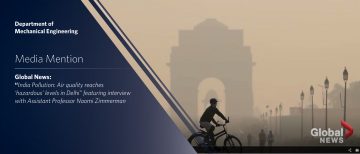 November 28, 2019
Global News interviewed Mechanical Engineering faculty member Dr. Naomi Zimmerman about early November's hazardous air quality in Delhi, and air pollutant PM 2.5.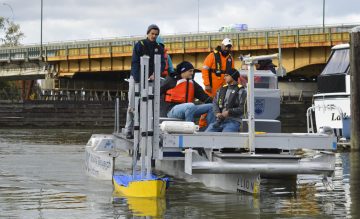 October 29, 2019
On Tuesday, October 8th, Naval Architecture and Marine Engineering (NAME) graduate students embarked on the waters of the Fraser River delta to test model ship hulls, marking the first time hull testing has been done by students at UBC in the last twelve years. This has been facilitated by the recent addition of UBC Marine […]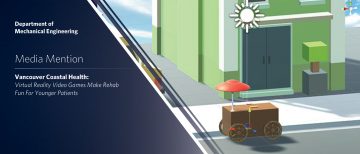 October 18, 2019
Magnifying mistakes leads to more meaningful motor learning. Experts commonly advise that the best exercise is exercise you enjoy doing—that way you'll keep doing it. The same holds true for rehabilitation exercise, especially when it comes to younger patients. Vancouver Coastal Health Research Institute scientists recently tested gaming devices equipped with immersive virtual reality (VR) […]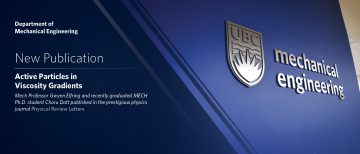 October 18, 2019
UBC Mech Department Professor Gwynn Elfring and recently graduated MECH Ph.D. student Charu Datt have published an article in the prestigious physics journal Physical Review Letters on 'Active particles in viscosity gradients'. In this work they show how one can understand and model the viscotaxis observed in biological microorganisms swimming in fluids with viscosity gradients. In the […]
October 7, 2019
Hongshen Ma, a UBC mechanical engineering professor, has received funding support from the Michael Smith Foundation for Health Research (MSFHR) to develop technology that may bring protein-based medicines to market more quickly and cost-effectively. The support comes through the MSFHR's Innovation to Commercialization (I2C) Program, which was established three years ago "to help researchers advance […]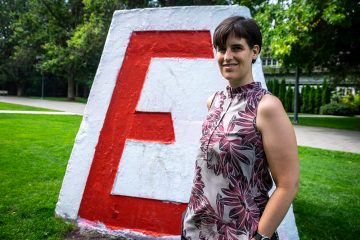 October 1, 2019
Agnes d'Entremont doesn't have cable and hasn't seen the recent HBO series Chernobyl. But she knows the territory. The Chernobyl nuclear disaster brought perhaps the most horrifying consequences ever to result from the clash of engineering principles with political agendas. That may be why d'Entremont, a senior instructor of mechanical engineering at the University of British […]