Tours and Events
Learn about seminars, events and tours happening in our Department.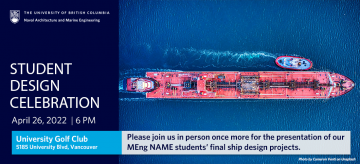 April 11, 2022
On April 26 our Naval Architecture and Marine Engineering program MEng students will present their final ship design projects in person once more. Join us at the University Golf Club the evening of April 26th to see what our NAME Master of Engineering students have achieved this year! Enjoy dinner and watch students present their […]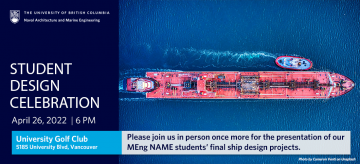 April 10, 2022
We are hosting a networking and panel event for our alumni, featuring speakers from our academic and industry community working to understand and improve our health. Join us for food and drinks, see former classmates and professors, and take in an evening of interesting engineering.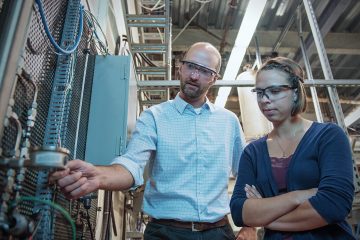 February 3, 2022
MECH will be holding an information session about early admission for Mechanical Engineering Options for 1st year engineering students and regular admission for current Mech 2 students. The session will go over the application process, due dates, and what to include in your application package. The faculty member Option Coordinator will also be speaking in […]
January 10, 2022
Are you a first-year Engineering student interested in learning about Mechanical Engineering? Join us for a special online networking event where you'll get to meet our students, alumni, and faculty members!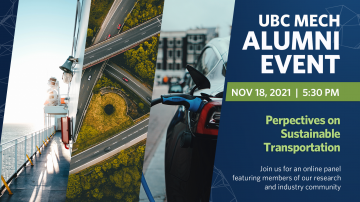 November 2, 2021
The Department of Mechanical Engineering at UBC Vancouver invites our alumni to a special event on Thursday, November 18, 2021. Join us at 5:30 PM for an online panel featuring Mechanical Engineering faculty and industry members who are tackling sustainable transportation solutions from a variety of angles. There will be door prizes available for attendees. […]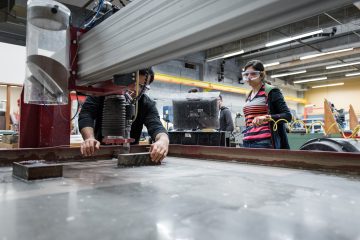 October 15, 2021
Missed the "Student Experiences in Mechanical Engineering" session but want to know what happened?  You can listen to the audio recording here: First year engineering students get a chance to learn about Mechanical Engineering from our faculty in APSC 100, but are you interested in learning what the program is like from people who […]
March 4, 2021
Are you a first-year Engineering student interested in learning about Mechanical Engineering? Join us for a special online networking event where you'll get to meet our students, alumni, and faculty members! Join us for this unique online networking event where small groups of students will be matched with one current student, one alum and one […]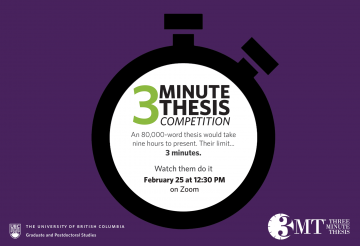 February 16, 2021
The Department of Mechanical Engineering is hosting our annual Three Minute Thesis heat, a competition where graduate students have three minutes or less to present their thesis project and why it matters! Presentations will be judged by a panel of Mech faculty – as well as you: join us online and cast your ballot for […]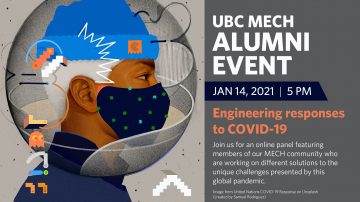 December 23, 2020
The Department of Mechanical Engineering invites our alumni to a special event on Thursday, January 14, 2021. Join us at 5 PM for an online panel featuring a Mechanical Engineering alum, faculty member, graduate student, and undergraduate who have been tackling the unique challenges presented by COVID-19. Their solutions vary from software applications, to device design, […]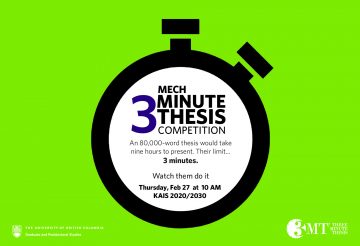 February 21, 2020
The Department of Mechanical Engineering is hosting our first Three Minute Thesis heat, a competition where graduate students have three minutes or less to present their thesis project and why it matters! Presentations will be judged by a panel of Mech faculty – as well as you: come cast your ballot for the people's choice […]