Thomas Oxland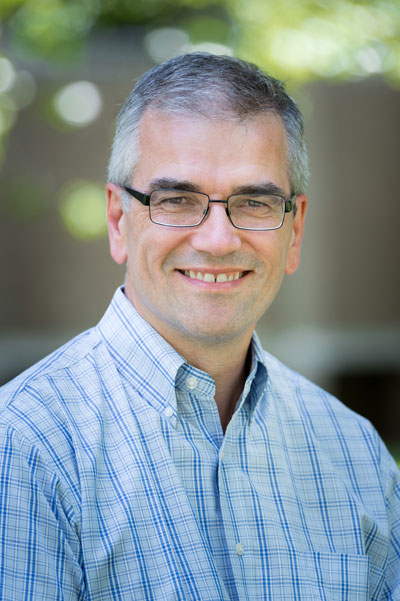 Professor
BASc, MASc (Waterloo), PhD (Yale); Associate Director ICORD; Fellow of the RSC, ASME
Research Interests
Biomechanics
Aging Spine
Spinal Cord Injury
Orthopaedic Implants
Current Research Work
Aging Spine: Our research addresses the challenge of adult spinal deformity, which is becoming very prevalent globally with our aging population. Our work in this area encompasses biomechanical modelling, advanced medical imaging, and measurement of the biomechanical properties of human paraspinal musculature.
Spinal Cord Injury: Our group uses experimental and computational approaches to determine whether the pattern of spinal column injury results in different types of spinal cord injury. From a basic science perspective, we are searching for a biomechanical injury threshold for spinal cord tissue. Clinically, this line of research is important in the assessment of different therapies for spinal cord injured individuals. This is a highly interdisciplinary area of research that includes elements of neuroscience, molecular biology, and spine surgery.
Orthopaedic Implants: Our group has investigated many biomechanical aspects of orthopaedic implant behaviour over the years, including hip and knee joint replacement devices, fracture fixation implants, and devices used in the spine. Our most recent research in this area has addressed some design aspects of total ankle replacement implants.
Selected Publications
J. Yu, N. Manouchehri, S. Yamamoto, B.K. Kwon, T.R. Oxland, "Mechanical properties of spinal cord grey matter and white matter in confined compression", Journal of the Mechanical Behaviour of Biomedical Materials. doi: 10.1016/j.jmbbm.2020.104044, 2020.
Pai S Anoosha, et al. "Quantitative Identification and Segmentation Repeatability of Thoracic Spinal Muscle Morphology", JOR Spine, doi: 10.1002/jsp2.1103, 2020.
A. Melnyk, T. Whyte, V. Thomson, T. Marion, S. Yamamoto, J. Street, T.R. Oxland, P.A. Cripton, "The Effect of Compression Applied Through Constrained Lateral Eccentricity on the Failure Mechanics and Flexibility of the Human Cervical Spine", Journal of Biomechanical Engineering, doi: 10.1115/1.4047342, 2020.
N. Shaikh, H. Zhang, S.H.M. Brown, J.R. Shewchuk, Z. Vawda, H. Zhou, J. Street, D.R. Wilson, T.R. Oxland, "The effect of posture on lumbar muscle morphometry from upright MRI", Eur Spine Journal, doi: 10.1007/s00586-020-06409-4, 2020.
T. Whyte, A.D. Melnyk, C. Van Toen, S. Yamamoto, J. Street, T.R. Oxland, P.A. Cripton, "A neck compression injury criterion incorporating lateral eccentricity", Sci Rep. doi: 10.1038/s41598-020-63974-w, 2020.
J. Speidel, S. Mattucci, J. Liu, B.K. Kwon, W. Tetzlaff, T.R. Oxland, "The Effect of Velocity and Duration of Residual Compression in a Rat Dislocation Spinal Cord Injury Model", Journal of Neurotrauma. doi: 10.1089/neu.2019.6747, 2020.
J.J. Dowling-Medley, R.J. Doodkorte, A.D. Melnyk, P.A. Cripton, T.R. Oxland "Shear stiffness in the lower cervical spine: Effect of sequential posterior element injury", Proc Inst Mech Eng H. doi: 10.1177/0954411919889194, 2019.
S. Mattucci, J. Speidel, J. Liu, M.S. Ramer, B.K. Kwon, W. Tetzlaff, and T.R. Oxland, "Development of a Traumatic Cervical Dislocation Spinal Cord Injury Model with Residual Compression in the Rat," Journal of Neuroscience Methods, 2019.
For a full list of publications, visit my profile on: