Thomas Oxland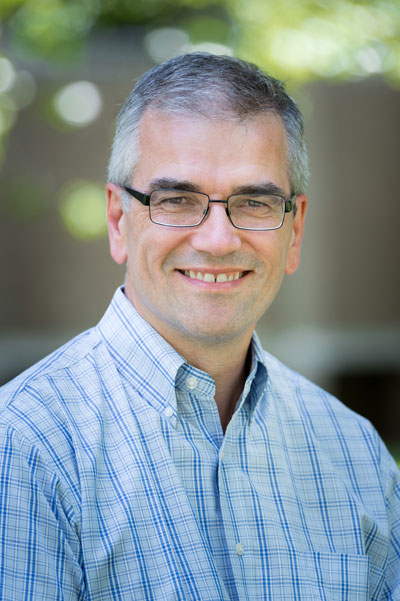 Professor
BASc, MASc (Waterloo), PhD (Yale); Associate Director ICORD; Fellow of the RSC, ASME
Research Interests
Biomechanics
Aging Spine
Spinal Cord Injury
Orthopaedic Implants
Current Research Work
Aging Spine: Our research addresses the challenge of adult spinal deformity, which is becoming very prevalent globally with our aging population. Our work in this area encompasses biomechanical modelling, advanced medical imaging, and measurement of the biomechanical properties of human paraspinal musculature.
Spinal Cord Injury: Our group uses experimental and computational approaches to determine whether the pattern of spinal column injury results in different types of spinal cord injury. From a basic science perspective, we are searching for a biomechanical injury threshold for spinal cord tissue. Clinically, this line of research is important in the assessment of different therapies for spinal cord injured individuals. This is a highly interdisciplinary area of research that includes elements of neuroscience, molecular biology, and spine surgery.
Orthopaedic Implants: Our group has investigated many biomechanical aspects of orthopaedic implant behaviour over the years, including hip and knee joint replacement devices, fracture fixation implants, and devices used in the spine. Our most recent research in this area has addressed some design aspects of total ankle replacement implants.
Selected Publications
Shaikh N, Yung A, Zhang H, Street J, Laule C, Oxland T, Wilson DR. Muscle activity with 0.5 T upright MRI-DESS to measure T2 in biceps and triceps. J Orthop Res. 2022 Jun 18. doi: 10.1002/jor.25402. Online ahead of print.
Malakoutian M, Noonan AM, Dehghan-Hamani I, Yamamoto S, Fels S, Wilson D, Doroudi M, Schutz P, Lewis S, Ailon T, Street J, Brown SHM, Oxland TR. Dysfunctional paraspinal muscles in adult spinal deformity patients lead to increased spinal loading. Eur Spine J. 2022 Sep;31(9):2383-2398. doi: 10.1007/s00586-022-07292-x. Epub 2022 Jul 16
Malakoutian M, Sanchez CA, Brown SHM, Street J, Fels S, Oxland TR. Biomechanical Properties of Paraspinal Muscles Influence Spinal Loading-A Musculoskeletal Simulation Study. Front Bioeng Biotechnol. 2022 Jun 2;10:852201. doi: 10.3389/fbioe.2022.852201. eCollection 2022.
Dourthe B, Shaikh N, Pai S A, Fels S, Brown SHM, Wilson DR, Street J, Oxland TR. – Automated segmentation of spinal muscles from upright open MRI using a multi-scale pyramid 2D convolutional neural network. Spine (Phila Pa 1976). 2021 Dec 15. doi: 10.1097/BRS.0000000000004308. Online ahead of print.
Melnyk A, Whyte T, Van Toen C, Yamamoto S, Street J, Oxland TR, Cripton PA. The effect of end condition on spine segment biomechanics in compression with lateral eccentricity. J Biomech. 2021 Nov 9;128:110617. doi: 10.1016/j.jbiomech.2021.110617. Epub 2021 Jul 10.
Malakoutian M, Theret M, Yamamoto S, Dehghan-Hamani I, Lee M, Street J, Rossi F, Brown SHM, Oxland TR. Larger muscle fibers and fiber bundles manifest smaller elastic modulus in paraspinal muscles of rats and humans. Sci Rep. 2021 Sep 17;11(1):18565. doi: 10.1038/s41598-021-97895-z.
Yamamoto S, Malakoutian M, Theret M, Street J, Rossi F, Brown SHM, Saito M, Oxland TR. The Effect of Posterior Lumbar Spinal Surgery on Biomechanical Properties of Rat Paraspinal Muscles 13 Weeks After Surgery. Spine (Phila Pa 1976). 2021 Nov 1;46(21):E1125-E1135. doi: 10.1097/BRS.0000000000004036.
Mattucci S, Speidel J, Liu J, Tetzlaff W, Oxland TR. Temporal Progression of Acute Spinal Cord Injury Mechanisms in a Rat Model: Contusion, Dislocation, and Distraction. J Neurotrauma. 2021 Jun 9. doi: 10.1089/neu.2020.7255. Online ahead of print.
Pai S A, Zhang H, Street J, Wilson DR, Brown SHM, Oxland TR. Preliminary investigation of spinal level and postural effects on thoracic muscle morphology with upright open MRI. JOR Spine. 2021 Feb 8;4(1):e1139. doi: 10.1002/jsp2.1139. eCollection 2021 Mar.
For a full list of publications, visit my profile on: