Archives by date
You are browsing the site archives by date.
July 27, 2010
Two UBC robots are highlighted in this August's issue of Popular Science. The human-interaction robots RISER and TAMER are profiled in PopSci's feature article "Rise of the Helpful Machines" – both involving researchers from Mechanical Engineering's Collaborative Advanced Robotics and Intelligent Systems Laboratory. Check out images #5 (TAMER – a collaboration between Computer Science and […]
July 21, 2010
This talk outlines how three primary energy sources: fossil fuels, renewable energy, and nuclear fission, are used to provide all of our energy needs, and how we can move to a much more sustainable energy system in the future.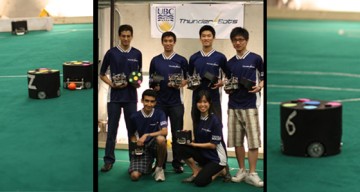 July 8, 2010
Read more about a team autonomous robot soccer players and the team that built them.