Archives by date
You are browsing the site archives by date.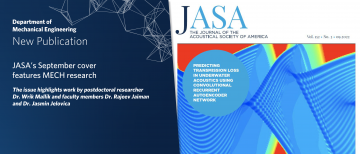 October 13, 2022
The September issue of the Journal of the Acoustical Society of America featured a new publication by UBC Mechanical Engineering researchers. Postdoctoral researcher Dr. Wrik Mallik, Associate Professor Rajeev Jaiman and Assistant Professor Jasmin Jelovica are the authors of the recent publication, "Predicting transmission loss in underwater acoustics using convolutional recurrent autoencoder network." Their work […]
October 13, 2022
The Disaster Resilience Research Network (DRRN) is a new Research Excellence Cluster at UBC, which aims to advance multi-hazard assessment and mitigation in support of inclusive, equitable, and just disaster risk management. DRRN seeking two highly motivated UBC graduate students for its inaugural Disaster Resilience Graduate Fellowship. The fellows will support the DRRN by analyzing […]
October 13, 2022
Lubrication Performance of the Cellulose Nanocrystalline (CNC) Aqueous Suspensions as Potential Green Lubricants Candidate: Behzad Zakani, for the PhD degree in Mechanical Engineering Date: Thursday, October 20, 2022 Time: 9:00 AM Location: Zoom Exams held via Zoom are by invitation only and are listed here for information.