Archives by date
You are browsing the site archives by date.
October 6, 2022
The Pierre Elliott Trudeau Foundation Scholarship Program offers a three-year leadership program designed to train Engaged Leaders, equipping doctoral candidates with the skills to translate their ideas into action, for the betterment of their communities, Canada, and the world.  At least 12 doctoral Scholars are selected each year and receive generous funding for their studies. The Foundation […]
October 6, 2022
Dr. Ponga will present his research on how studying subtle nanoscale mechanisms and interactions between atoms and molecules can help us to understand, predict, and ultimately control the mechanisms and properties of materials at the macroscale.
October 6, 2022
Attend the on-campus UBC Engineering Open House to discover your future at one of Canada's top engineering schools. Explore all UBC Engineering has to offer through in-person booths and demonstrations.
October 6, 2022
Associate Professor, Dr. Hongshen Ma will present his research on the development of a microfluidic ratchet device to sort red blood cells and See-N-Seq, a technology platform to isolate RNA from single cells identified using microscopy.
October 6, 2022
Attend the online UBC Engineering Open House to discover your future at one of Canada's top engineering schools. Discover UBC Engineering through three days of presentations, panel discussions and virtual booths. In the October 14th live Q&A session, our panel of faculty, staff and students will be available to answer your questions. Even if you […]
October 5, 2022
Connect to Community Grant Centre for Community Engaged Learning is calling for committed and passionate undergraduate and graduate students who have projects they want to implement in their communities to apply for the Connect to Community Grant ($200 – $1,500 awards). Deadline to apply is Friday, October 28, 2022. Link to Application Package Link to Application […]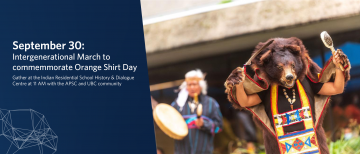 September 29, 2022
Led by UBC Applied Science and Land and Food Systems. There are no fees or registration required. Join us for an intergenerational march to commemorate Orange Shirt Day. Members of the UBC STEM community, families and those in solidarity are welcome to participate. As this event is held on the day and classes are cancelled, […]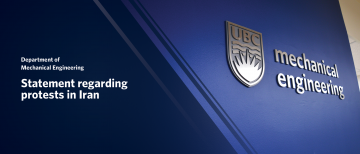 September 28, 2022
The Department of Mechanical Engineering joins UBC and the Government of Canada in standing with the women of Iran and all Iranians fighting for women's rights in response to the death of 22 year old Mahsa Amini. We stand with our Iranian students, staff and faculty members who are experiencing trauma and distress, who are […]
September 22, 2022
The Indigenous and Black Engineering and Technology Momentum Fellowship (IBET) is intended to support Canadian Indigenous peoples (First Nations, Inuit and Métis) and Black researchers in achieving their rightful place and respected inclusion in academia at UBC. This prestigious Fellowship will provide financial support of $40,000 per year for 4 years for University of British […]
September 22, 2022
The Association for Computing Machinery (ACM) established the Doctoral Dissertation Award program to recognize and encourage superior research and writing by doctoral candidates in computer science and engineering. The award is presented each June at the ACM Awards Banquet and is accompanied by a prize of $20,000 plus travel expenses to the banquet. All winning […]