Archives by date
You are browsing the site archives by date.
November 2, 2022
The Pierre Elliott Trudeau Foundation Scholarship Program offers a three-year leadership program designed to train Engaged Leaders, equipping doctoral candidates with the skills to translate their ideas into action, for the betterment of their communities, Canada, and the world.  At least 12 doctoral Scholars are selected each year and receive generous funding for their studies. The Foundation […]
November 2, 2022
UBC Affiliated Fellowships – Master's The UBC Affiliated Fellowships Master's competition runs in concert with the Canada Graduate Scholarships-Master's (CGS-M; see below) competition. Approximately 50 fellowship with values ranging from $175 to $16,000 are offered through this competition. Current and prospective full-time UBC-Vancouver graduate students can apply. Students who are eligible for the CGS-M must submit a […]
November 2, 2022
The province of British Columbia has funded graduate scholarships in any field of study, with emphasis on research in science, technology, engineering and mathematics (STEM) fields, and support for Indigenous students. (https://www.grad.ubc.ca/awards/british-columbia-graduate-scholarship) Scholarship Value: $15,000 for one year Eligibility: Must be Canadian citizens or Permanent Residents Must be a full-time registered student in a research-based […]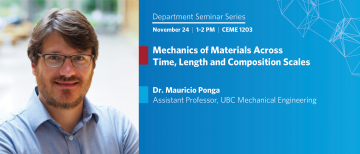 November 2, 2022
Dr. Ponga will present his research on how studying subtle nanoscale mechanisms and interactions between atoms and molecules can help us to understand, predict, and ultimately control the mechanisms and properties of materials at the macroscale.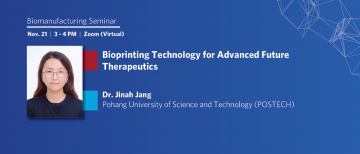 November 1, 2022
Dr. Jinah Jang from the Pohang University of Science and Technology (POSTECH), will discuss how 3D cardiovascular tissue testing platform could be generated by integrating the concept of bioprinting-assisted tissue engineering and electrical sensing platforms.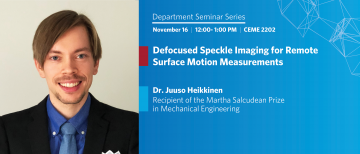 October 27, 2022
The 2022 winner of the Martha Salcudean Prize in Mechanical Engineering, Dr. Heikkinen will present his dissertation research on using Defocused Speckle Imaging to develop a non-contact inspection tool that can be used to measure various properties of an object remotely.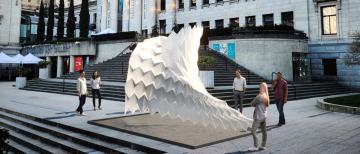 October 20, 2022
"UBC Assistant Professor of Mechanical Engineering Dr. Naomi Zimmerman has been the key source of information behind the project. She leads the Integrated Research in Energy, Air, Climate & Health (iREACH) laboratory, looking at ways policy and technology impact climate outcomes."
October 16, 2022
Dr. Keekyoung Kim from the University of Calgary will present on his research in the development of reliable, flexible, cost-effective advanced biomanufacturing processes and systems that are based on stereolithography-based 3D bioprinting and integrated high throughput microfluidic cell-laden microgel fabrication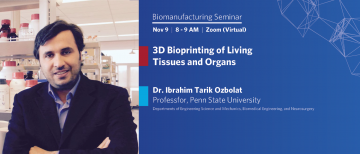 October 15, 2022
Dr. Ibrahim Tarik Ozbolat from Penn State University will present a new bioprinting technique, called aspiration-assisted bioprinting and explain the underlying physical mechanisms. Dr. Ozbolat is a Professor at PSU Engineering Science and Mechanics, Biomedical Engineering and Neurosurgery, and a member of the Huck Institutes of the Life Sciences.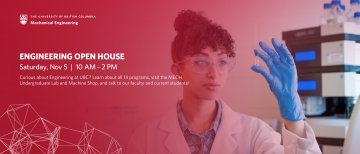 October 15, 2022
Attend the on-campus UBC Engineering Open House to discover your future at one of Canada's top engineering schools. Explore all UBC Engineering has to offer through in-person booths and demonstrations.