Archives by date
You are browsing the site archives by date.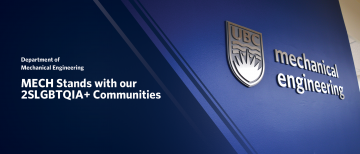 September 20, 2023
UBC Mechanical Engineering stands with its community – its whole community, including people from across gender and sexuality spectrums – in condemning the anti-transgender and anti-queer actions taking place on campus and across the country.  As a community and a society, we are at our best when we bring diverse perspectives and experiences together, and […]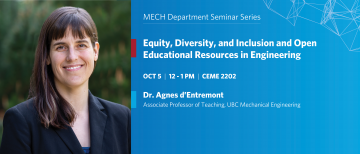 September 19, 2023
Dr. Agnes d'Entremont will discuss the salience of Equity, Diversity, and Inclusion (EDI) and Open Educational Resources (OER) in designing engineering education that is accessible and representative of the communities engineers serve. She will review recent work both building and evaluating educational resources and researching topics in OER and EDI related to engineering education.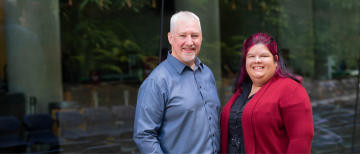 September 18, 2023
Congratulations to Mechanical Engineering staff members Sean Buxton and Jen Pelletier, who have each been recognized for their contributions to UBC through the 2023 President's Staff Awards. The President's Staff Awards "recognize the personal achievements and contributions that our staff make to UBC, and to the vision and goals of the university." They are awarded […]
September 14, 2023
McElhanney M-POWER Scholarship Program This is an external award, not affiliated with UBC or the Department of Mechanical Engineering. Application Deadline: Nov 3, 2023 (Indigenous Peoples Scholarship is open year-round) Value: various Degree level: undergraduate + graduate students The McElhanney M-POWER Scholarship Program is intended to empower, support, and recognize young professionals of all backgrounds […]
September 14, 2023
Tyler Lewis Clean Energy Research Foundation Grant The Tyler Lewis Clean Energy Research Grant was established to provide financial support and promote graduate student research in the field of clean energy at Canadian Universities. An award of $10,000 will be granted on an annual basis to one eligible student. Up to two additional grants ($10,000 […]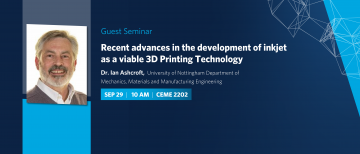 September 14, 2023
Guest speaker Dr. Ian Ashcroft will discuss the potential of inkjet printing as a technology for high resolution multi-material 3D printing, as well as challenges including droplet interactions, geometric control and process control and optimization. This talk will look at two specific inkjet technologies and discuss how these challenges are being addressed. The first technology […]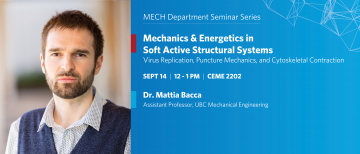 September 8, 2023
Join us on September 14 for the first in our fall Department Seminar Series, to hear Dr. Bacca present his latest research exploring virus replication, puncture mechanics, and cytoskeletal contraction. This seminar will explore three problems in the realm of soft active structural systems, i.e., systems characterized by an active chemo-mechanical behaviour, and undergoing large […]
September 8, 2023
ACM Doctoral Dissertation Award ACM established the Doctoral Dissertation Award program to recognize and encourage superior research and writing by doctoral candidates in computer science and engineering. The award is presented each June at the ACM Awards Banquet and is accompanied by a prize of $20,000 plus travel expenses to the banquet.  As of January […]