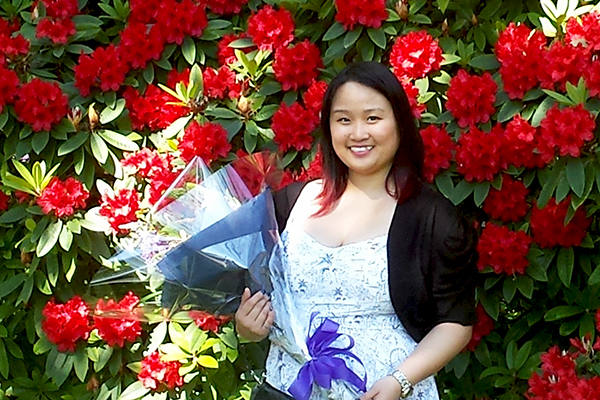 Can you tell us a little bit about the kind of work that you do?
My department at work is Pressure Equipment Integrity and what I essentially do is try to keep things in the pipe. To elaborate, our plant is full of pressure vessels and piping with a wide variety of different chemicals and hydrocarbons in them. These fluids interact with the materials of construction and can lead to corrosion, which in turn could cause leaks. If my department does its job right, we can anticipate the life expectancy of equipment and replace them before they every leak.
What have been the turning points and milestones in your career?
So far my milestones are the turnarounds I've been a part of at work. Every few years parts of my plant shut down for maintenance work: it is always a busy and hectic environment. Working these turnarounds means that there are so many things to learn, many new challenges to face, and working with a lot of different people. Coming out of a turnaround makes me feel like I've just leveled-up in work.
What is a fact about your work that people might find surprising?
There is a lot of opportunity for multi-disciplinary work: whether it is in the design process of a project, coming up with solutions to challenges we face, or trying to understand why an event happened, all of these require people from different disciplines coming together and pulling in the same direction.
What do you consider your greatest achievement in life so far (personal, professional, or both)?
My greatest achievement in life so far has been both my moves to Vancouver and Edmonton. They both signified different chapters in my life and as someone who would is a little anxious about change, they symbolized me taking steps forward.
What was your favourite class at UBC, and why?
I would have to say most of my coding classes! (I realize this may not be the norm for most mech students!) For a mech related one, I would say the MECH 221 – not only was it my introduction to a design process that I use in my company today, but it also helped me learn more about how to use Word effectively (this sounds like such a simple concept but really, I think it's such an important skill to have).
What do you feel are three habits necessary for highly successful engineers?
Three habits necessary for highly successful engineers:
continue learning – realize that everything you've learned in school is a foundation and from there it's up to you to build and grow: keeping up with new technologies, new solutions, and new ways of thinking;
practice effective communication – solving problems and coming up with solutions is only a small part of workplaces and the rest is based on communication – can you collaborate well with others? Explain your thought process to your supervisor? Engage stakeholders who may not have your technical background?
keep a log book – it helps organize your thoughts – notes, drawings, meeting minutes all in one place, and it acts as a memory storage for conversations you've had with customers, to do lists/action items
What was your favourite thing to do on campus as a UBC student?
Eating at One More Sushi with friends and getting bubble tea in the village! There is a distinct lack of good bubble tea places around here.
What are the top three things that you would recommend current engineering students do before they graduate?
Before they graduate, I'd recommend engineering students:
Get involved in a student team (whether technical or in some sort of governing/official/other organized role) – this provides experience in group work outside of classroom settings and is a great way to practice either technical or soft skills or both
Gain work experience – through internship, co-op, job shadowing
Nurture a passion – this could be something that is related to work or something that is a hobby – and make time for it; it may be easy to get swept away in doing course after course at school and then once you start work, keeping up with the demands of the job, but making the effort to nurture a passion is a way for you to pause and take some time for yourself