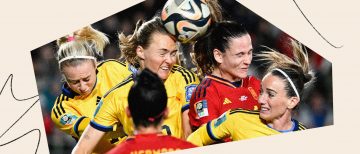 August 29, 2023
WASHINGTON POST: "A number of studies suggest that the powerful forces involved in heading a ball may lead to thinking and memory problems, and possibly dementia" "Astronauts during rocket launch may experience a few g's of acceleration," said Lyndia Wu, an assistant professor of mechanical engineering at the University of British Columbia who led the […]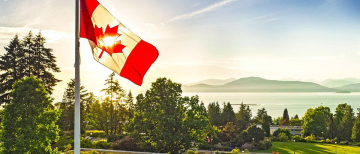 May 4, 2023
Dr. Hongshen Ma's project "Immune profiling using single cell cytokine secretome and transcriptome analysis" has been awarded funding from the New Frontiers in Research Fund's (NFRF) Exploration Stream. The NFRF supports world-leading interdisciplinary, transformative and rapid-response Canadian-led research.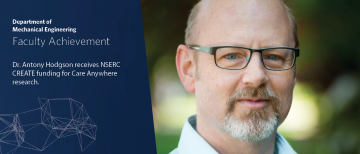 April 25, 2023
Congratulations to Dr. Antony Hodgson and his collaborators on receiving NSERC CREATE funding for Care Anywhere: Smart Biosensors to Promote Healthy Aging and Transform Healthcare. This project will train the next generation of multidisciplinary researchers, developers and clinicians to develop and make the best use of biosensors – anywhere from the hospital to everyday life. […]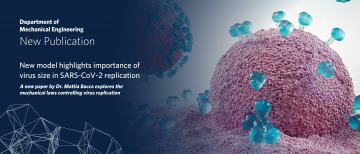 December 21, 2022
EurekAlert, Physics.org: As the world recovers from the economic and social impacts of COVID-19, researchers like Mattia Bacca continue to study SARS-CoV-2 and related viruses to be better prepared for future pandemics. Dr. Bacca, an assistant professor at the University of British Columbia, used his particular expertise—micromechanics, the study of extremely tiny structures—to develop a simple […]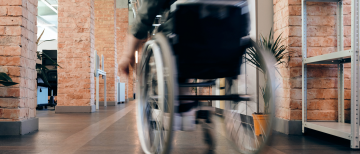 November 28, 2022
The November 2022 issue of Assistive Technology features research by members of the Collaborative Advanced Robotics and Intelligent Systems (CARIS) Laboratory, UBC's Department of Occupational Science and Occupational Therapy, and the International Collaboration on Repair Discoveries (ICORD). The group, including Mechanical Engineering alumna and CARIS PhD graduate Dr. Mahsa Kalili and CARIS Director Professor Mike […]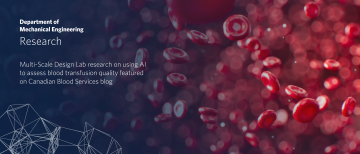 November 25, 2022
PhD student and Canadian Blood Services graduate fellowship awardee Erik Lamoureux writes about his research on using AI to assess red blood cell deformability in microscopy images, as part of Dr. Hongshen Ma's Multi-Scale Design Lab.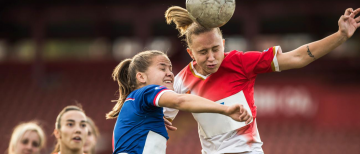 November 23, 2022
VGH Research Institute: "Sport-related head injury is a significant health concern that can lead to harmful effects down the line, such as permanent brain injury. Research led by Vancouver Coastal Health Research Institute researcher Dr. Lyndia Wu and Ahmad Rezaei used a novel computer vision algorithm to create a head injury baseline that could help […]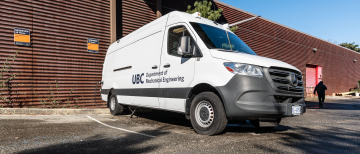 August 11, 2022
Watch out, Vancouver. The PLUME van is coming soon to a location near you. An "air pollution lab on wheels," PLUME will be used to measure concentrations of air pollutants across the city including carbon monoxide, carbon dioxide, ground-level ozone, black carbon, methane, volatile organic compounds, and various sizes of ultrafine particles that can affect […]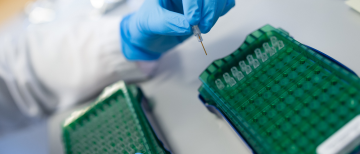 August 4, 2022
The Multi Scale Design Laboratory (MDL) lead by Professor Hongshen Ma has recently published a new paper, "See-N-Seq: RNA sequencing of target single cells identified by microscopy via micropatterning of hydrogel porosity". MDL researchers have developed a new method, "See-N-Seq," that uses a micropatterned hydrogel to capture target cells for single cell RNA sequencing. This […]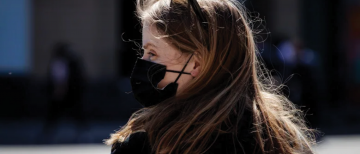 May 18, 2022
CBC News: Should you wear a mask? Advice for navigating a mask-optional Canada  |  Experts who study airborne particles still recommend wearing masks in crowded indoor settings. With masks now optional in most public spaces and Quebec recently joining the rest of Canada in relaxing its rules, the mental gymnastics required to figure out whether or not […]