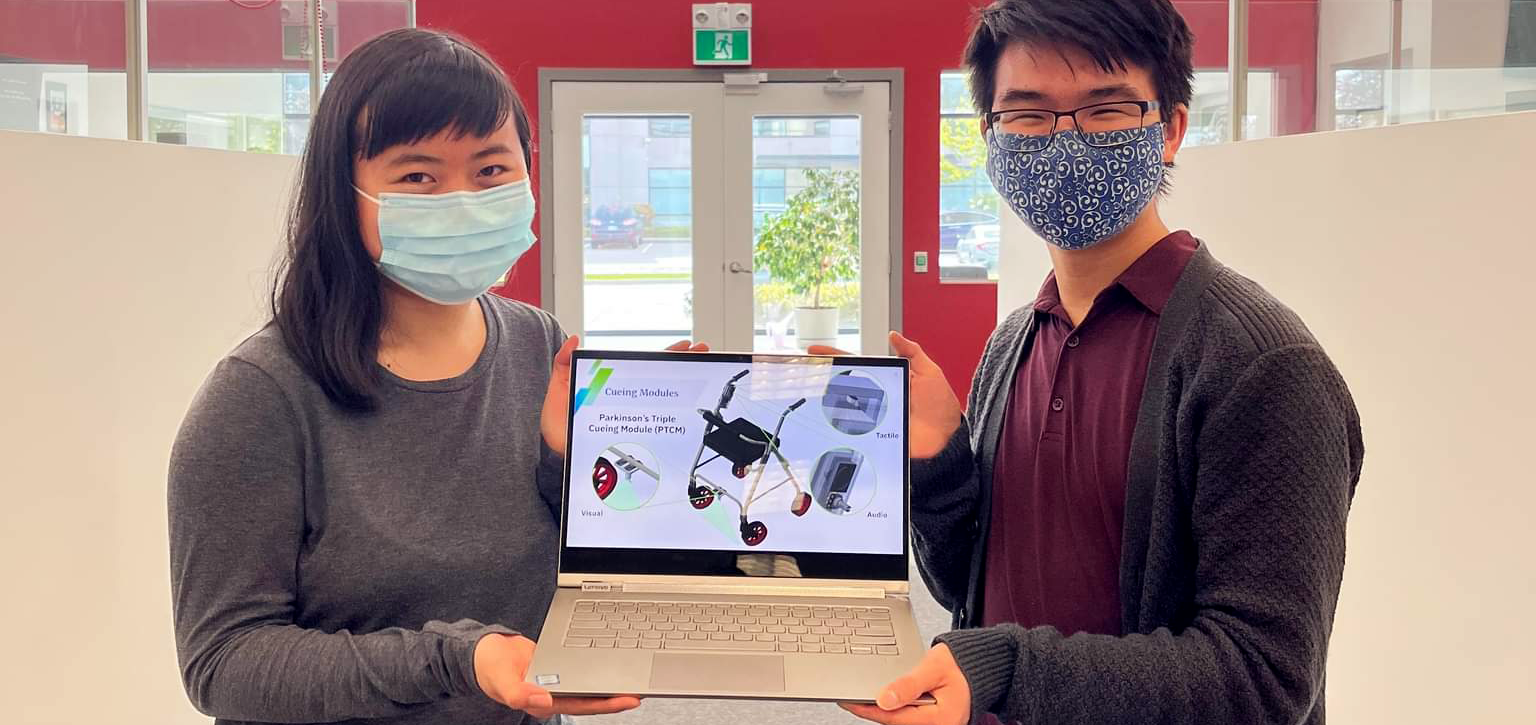 Undergraduate students Phoebe Cheung and Andrew Mah have won the Nancy Lear Achievement Award for their design of a Triple Cueing Module to help people living with Parkinson's. This $2000 award is given to the second-place winners of the Simon Cox Student Design Competition, in which student teams collaborate with a peer with a disability to bring ideas for assistive technology to life. The competition is run by BC non-profit Technology for Living, which strives daily to improve the quality of life for BC residents living with disabilities through assistive technology, innovation, and respiratory care. While showcasing student design and innovation, the competition also raises awareness about the everyday issues facing British Columbians living with neuromuscular disorders and spinal cord injuries.
Cheung and Mah designed a device to help people living with Parkinson's break out of freezing episodes, wherein walking is temporarily interrupted and falls can take place due to the upper body's continued momentum. Freezing can be broken by sensory cues, and the team's device utilizes a laser, sound, and vibration to provide the user with multiple kinds of stimuli. The module can be mounted to any walker, and can be activated when necessary by buttons near the handle. The team was supervised by Mechanical Engineering Professor Jon Mikkelsen. Learn more about the team's design in their video presentation from the first round of competition.
First and third place in the Simon Cox Student Design Competition were also awarded to UBC students. First place was awarded to a catheter drainage device giving users with limited fine motor control more independence, designed by engineering students at UBC Okanagan. Third place went to a rain protection device for wheelchair users with limited hand mobility, designed by UBC Vancouver students. The Peer's Choice Award – selected by vote from community members with mobility challenges – went to a switch-activated catheter release valve designed by a BCIT team. Watch the online award gala of the competition finals to learn about all the winning designs.