This article is from APSC Student and Alumni Stars. 
Callum Woznow – Mechanical Engineering Graduate and Co-Founder of Zeeno
A global tech journey that led me to Silicon Valley
"Make big spontaneous decisions – it makes life interesting and leads to cool experiences."
Callum Woznow
Throughout my time studying mechanical and biomedical engineering at UBC, I tried my best to fill my days with travel and building. I lived in Germany for a year to work in the automotive industry and learn a new language. During my time in Germany, I founded a technical consultancy called Strive which created technical work experience for 55+ UBC students and continues to operate on campus.
For my next internship, I followed my interest in sustainability and worked in hydrogen strategy in Washington DC. Here, I learned a lot, but realized that big companies aren't my thing. I then moved to Singapore supported by the Cansbridge Fellowship to help build an early stage tech startup alongside some accomplished serial entrepreneurs.
Toward the end of my degree, I started an AI company called Zeeno with fellow UBC students Enrique Moran and Sophie Berger, and managed to secure $840k CAD in funding from a top Silicon Valley investor to pursue the company full-time in San Francisco upon graduation.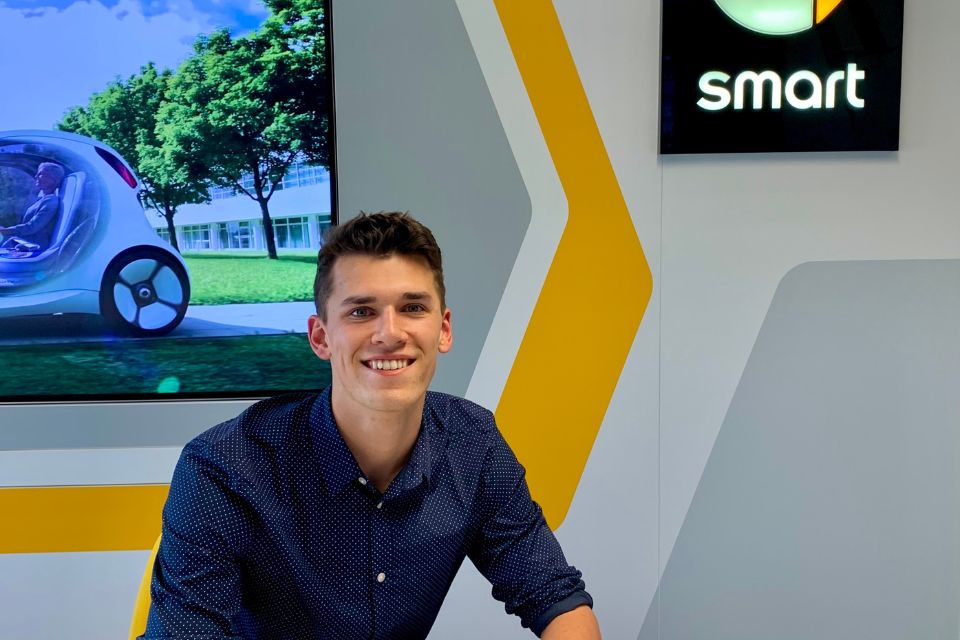 Why did you choose to study Mechanical Engineering?
I chose mechanical engineering because I have always loved to build physical things, figure out how things work, and work with my hands. It excites me to sit down with a bunch of random components and leave my desk with a new piece of technology. I wanted to focus on biomedical engineering as a specialty to open my mind to new problems that I wouldn't typically encounter in my daily life that could potentially make people's lives better.
How are you applying the skills you've learned?
I have taken many things away from my degree including a strong work ethic, the ability to run on small amounts of sleep, and guidance on how to start a company from my New Venture Design course. In addition to these general life skills, I did acquire a strong foundation of technical knowledge and one of the most satisfying ways I applied this was on a personal project.
I wanted to create something to help my long distance girlfriend and I stay connected between Canada and Germany. I built her a mechatronic stuffed bear with a robotic skeleton that could be controlled with a mobile app from any country in the world to give a firm hug. When I am on Facetime with her, and I see she is holding the bear, I tap a button in my app and the bear gives her a hug. This was one of the first times I applied my skills on a personal project and it was very satisfying.
Your advice to incoming UBC Engineering students?
If you have any ounce of desire to start your own side project, business, or organization, you should lean into it and do it. There will never be a point in time where it feels comfortable to start, and for this reason you just need to push yourself to take the first step. You can start by testing smaller projects or ideas and work your way up!
How do you feel your degree has benefitted you compared to a different field of study?
In terms of my specialization within engineering, I am happy that I chose mechanical. I felt that MECH covers such a wide breadth of engineering that it set me up well for any type of challenge I want to pursue in the future.
Looking back, I would not have chosen anything other than engineering as my field of study. The most important takeaway from my degree was putting myself through a true challenge and coming through the other end. Engineering is lots of work but no pain, no gain 🙂. I was exposed to everything from tissue engineering, programming and thermodynamics to complex mathematics, and economics.
What are your future plans to make a difference in our world?
I am a firm believer in entrepreneurship as a career path and I believe that to make a true impact in the world, you need to get your technology in front of people and into the market. For this reason, I am currently building an AI application company in hopes of giving millions of people a tool that they enjoy. In the future, I plan to apply my technical knowledge to build companies in the biomedical and/or clean energy sectors. I am particularly interested in combining generative AI with functional magnetic resonance imaging (fMRI) scans to better understand what goes on in the brain's visual cortex.
How did your studies in the Faculty of Applied Science prepare you for the future of work?
My degree did not teach me the quick way of doing things – it taught me the hard way.
We didn't learn how to build an app with a pre-made machine learning model, we learned how to build a model from first principles. In the fast-paced world we live in, it is important to understand how to use quick tools to build things and get stuff done, but if you do not have the ability to work from first principles and do things the hard way, it will be impossible to push the boundaries of technology to create new innovations. During my degree it was sometimes frustrating that the course content was very theoretical, but I came to appreciate this when I started making my own projects.
Anyone can use pre-made models and tools to make things, but having a strong and broad theoretical background is rare and significantly expands your technical capabilities.
What was the most fulfilling part of your UBC experience?
At the end of my second year, I saw the need for an organization to helps students gain work experience with real technology companies while they take courses to explore different career avenues. With this, I founded an organization called Strive Consulting. This was the most fulfilling part of my UBC experience regarding my career as I got the opportunity to meet amazing people and help students get jobs! Throughout my time running Strive we had 55+ students, from Bachelor to PhD-level, gain work experience and internships with organizations such as a Bill Gates-backed startup and Caltech.
I have since passed Strive on to the next generation of students and I am excited to see where they take it!