Archives by date
You are browsing the site archives by date.
October 27, 2023
The following three awards are related; the Affiliated Fellowships and the Indigenous Scholars Awards and Supplements Pilot Initiative are open to eligible applicants to to the Tri-Agency Canada Graduate Scholarships-Master's (CGS-M). UBC Affiliated Fellowships-Master's The UBC Affiliated Fellowships Master's competition runs in concert with the Canada Graduate Scholarships-Master's (CGS-M; see below) competition. Approximately 50 fellowship with […]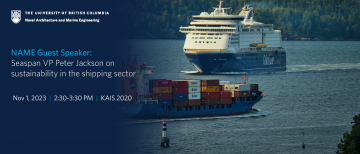 October 27, 2023
UBC Naval Architecture and Marine Engineering will be hosting a discussion on the shipping sector's eco-drive featuring guest speaker Peter Jackson, Seaspan's Vice President of Assets and Technology, and moderated by MEL & MHLP Academic Director Dr. Justin Bull. UBC students and alumni are invited to join us for this deep dive into the shipping […]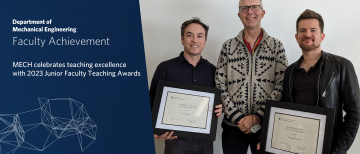 October 26, 2023
The Department of Mechanical Engineering has recognized the teaching contributions of Mech 2 Coordinator Dr. Graham R. Hendra and Capstone Coordinator Bill Rawlings with 2023 Junior Faculty Teaching Awards. These awards are given to outstanding instructors who are either tenure track and have not yet applied for tenure, or lecturers within their first six years […]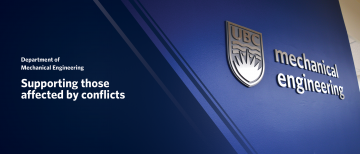 October 24, 2023
UBC Mechanical Engineering believes violence is not an answer for conflict, and we lend our support and compassion to those who are affected by current world conflicts. As world conflicts deepen and innocent civilians are caught in the tragic repercussions in Israel, Gaza and elsewhere, the implications are distressing for those with families and friends […]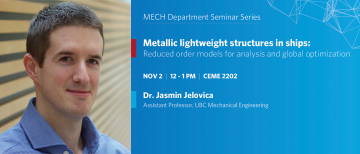 October 23, 2023
As part of our Fall Department Seminar Series, Dr. Jasmin Jelovica will present his talk "Metallic lightweight structures in ships: Reduced order models for analysis and global optimization." Dr. Jelovica will review the use of computational techniques to perform structural analysis and optimization in ship design.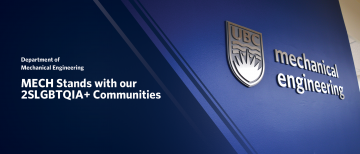 September 20, 2023
UBC Mechanical Engineering stands with its community – its whole community, including people from across gender and sexuality spectrums – in condemning the anti-transgender and anti-queer actions taking place on campus and across the country.  As a community and a society, we are at our best when we bring diverse perspectives and experiences together, and […]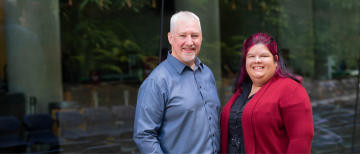 September 18, 2023
Congratulations to Mechanical Engineering staff members Sean Buxton and Jen Pelletier, who have each been recognized for their contributions to UBC through the 2023 President's Staff Awards. The President's Staff Awards "recognize the personal achievements and contributions that our staff make to UBC, and to the vision and goals of the university." They are awarded […]
September 14, 2023
McElhanney M-POWER Scholarship Program This is an external award, not affiliated with UBC or the Department of Mechanical Engineering. Application Deadline: Nov 3, 2023 (Indigenous Peoples Scholarship is open year-round) Value: various Degree level: undergraduate + graduate students The McElhanney M-POWER Scholarship Program is intended to empower, support, and recognize young professionals of all backgrounds […]
September 14, 2023
Tyler Lewis Clean Energy Research Foundation Grant The Tyler Lewis Clean Energy Research Grant was established to provide financial support and promote graduate student research in the field of clean energy at Canadian Universities. An award of $10,000 will be granted on an annual basis to one eligible student. Up to two additional grants ($10,000 […]
September 8, 2023
ACM Doctoral Dissertation Award ACM established the Doctoral Dissertation Award program to recognize and encourage superior research and writing by doctoral candidates in computer science and engineering. The award is presented each June at the ACM Awards Banquet and is accompanied by a prize of $20,000 plus travel expenses to the banquet.  As of January […]